=Method's IChemE approved HazOp Leaders Course is a 4-day practical course which covers all stages of hazard studies and how to lead them. It is primarily intended for people who already have some experience of HazOp, and now want to go on to facilitate hazard study meetings.
Course Content
At =Method, we believe that hazard study leaders need to be proficient in the following three key areas:
These areas are taught classroom sessions and group exercises. The course contents are as follows:
Area 1. The Hazard Study Process
The course is structured around the IChemE 6-stage approach to Hazard Study – with different study techniques being used as the process design project evolves from concept, through detailed design to final implementation. The 6 stages are:
Hazard Study 0 & 1 – Inherent Safety study and Concept Stage Hazard Review. These studies examine the basic hazards of the process to understand what decisions can be made at an early stage to ensure safety. A decision is also made during HS1 on which of the remaining hazard studies (2 to 6) are required.
Hazard Study 2 – depending on the organisation, HS2 may also be termed , or . It is a "top-down" study which aims to identify the process hazards present and key control measures required. HS2 is normally carried out during the phase of a project, once the basic project definition and process flow diagrams are available.
Hazard Study 3 – classic "bottom-up", deviation based hazard and operability study (HazOp). A detailed examination of potential hazardous events and the possible consequences if those hazardous events were to occur, based on a detailed process description and P&ID drawings. HS3 involves a structured examination of each part of the process to determine what could potentially go wrong (i.e. a "deviation" from the design intent). For each potential deviation, the HazOp team then considers if this could result in a hazardous event or give rise to operability concerns (hence the name Haz-Op). The safeguards installed to reduce the likelihood or consequence of an incident are then described, and a judgement of the remaining risk is made, often using a process risk matrix. Most importantly, the team then determine if any further actions are required, such as reviewing procedures, installing additional safeguards, or referring high-hazard scenarios on for further assessment using layer of protection analysis (LOPA).
Hazard Study 4 – a checklist-based evaluation carried out after construction but before the start of commissioning to confirm that the plant build has been carried out to plan. Hazard Study 4 will confirm that relevant actions from Hazard Study 3 have been completed, that changes to drawings have been recorded so that required updates to P&ID drawings have been completed and that any defects are rectified, typically before "wet" commissioning begins.
Hazard Study 5 – a review carried out after initial commissioning to confirm that the plant is ready for chemicals to be introduced.
Hazard Study 6 – a revalidation of the earlier hazard studies in the light of experience of running the process. Typically carried out after a few months operation, and then on a 5-yearly cycle, reviewing incidents, near misses etc. to ensure that the earlier Hazard Studies were correct and to keep them up to date. This course explains how to carry out hazard study revalidation, and discusses ways to make sure it is carried out efficiently and effectively.
Each of these studies is covered in turn, with each session building on the last as we work through group exercises carrying out hazard study for a new (fictional) process being introduced at "=Method Chemical Works".
Area 2. People skills for meeting facilitation
Let's not hide from this; effective HazOp facilitation is not easy! However, by gaining a better understanding of how people think and communicate, we can all become more effective in the way we influence and take part in meetings.
The sessions on people skills for meeting facilitation are based around a tool called " PRISM PRISM is a neuroscience-based model for helping us to understand how people behave, and their preferred communication styles. ". During the course, you will be invited to complete a brief online assessment, which is then interpreted within the context of HazOp facilitation. Each person's natural communication style will have strengths and potential blind-spots when it comes to leading hazard studies. This course will help you to play to those strengths, whilst also understanding and allowing for the areas you'll naturally find more difficult. It will also enable you to understand other people's preferred communication styles and provide tools and techniques for effective HazOp meeting facilitation.
You can find more information about PRISM, and a sample PRISM map here
Area 3. Knowledge of process hazards and safeguards
Process hazards are, by their nature, industry specific. However, there are some hazards which are common to many different industries. During the course, we introduce:
The causes of fire and explosion, fire basis of safety and how to prevent fires and explosions
Ignition from static electricity and how to prevent it
Chemical reactions, stability, and safe operating envelope
Overpressure and underpressure hazards
It is also important that hazard study leaders understand the different control measures available for reducing risk. We therefore introduce:
The different types of safeguards (prevention, control and mitigation)
When to use each type of safeguard
How to assess the effectiveness of a safeguard during hazard study
Effective use of risk matrices within HazOp
The concept of , and how it can be used to assess whether a company has done everything it should do to reduce the level of risk.
Human factors; how people can both cause and prevent incidents, and how to design systems to minimize the likelihood of human error
How hazard study fits into the overall context of functional safety and the functional safety standard IEC61511
Who should attend
This course is primarily intended for people who have already taken part in some HazOp studies, and now wish to transition into team leadership / facilitation. However, it is also suitable for HazOp team members who wish to gain an in-depth knowledge of hazard study and how it is carried out.
For those wanting a shorter introduction to hazard study, we also offer a 1-day Hazard Study for Team Members Training Course.
Meet the Facilitators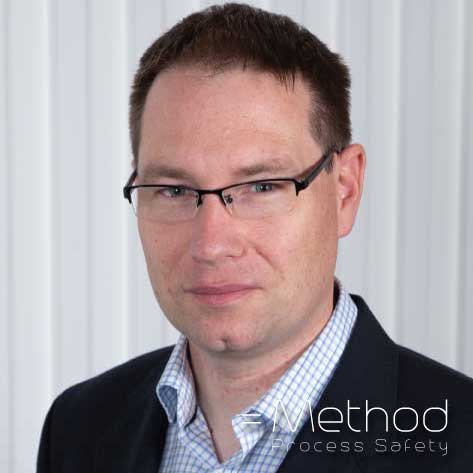 David Sparkes
The main trainer for this course is David Sparkes. David is Technical Director of Method Process Safety Ltd. He is a Chartered Chemical Engineer, experienced HazOp and LOPA facilitator, a Fellow of the Institute of Chemical Engineers, and is registered with the IChemE as a Professional Process Safety Engineer (PPSE).
Susie Guthrie
Susie Guthrie leads our sessions on communication styles and HazOp meeting management. She is and is an expert in effective communication, team dynamics and organizational development.
Susie is a Fellow of the Chartered Institute of Personnel and Development (CIPD)
Lucy Glasgow
Lucy Glasgow teaches the module on human factors. She is an expert on human behaviour and human error. She brings insights from a career spent in air traffic control to helping people to understand the causes of human error within the process industries, and how to prevent it.
After this course you will be able to
Lead / facilitate hazard studies and HazOps.*
Understand the fundamentals of the most common process hazards and how risk can be effectively controlled.
Recognise the impact of negative team behaviours within meetings and know how to manage them.
Participate fully in hazard studies as a technical representative
Understand the relationship between Hazard Studies and Functional Safety.
*A period of mentoring is recommended for all new hazard study leaders. If required, =Method can provide a mentor to help new leaders get off to the best possible start – please contact us to discuss your needs.
What you will get
The course material in printed format.
A certificate of attendance for each delegate that attends the full course. (30 hours of CPD).
Course Options
Course Enquiries
If you have any further questions, please contact us and if you wish to proceed, check the course diary to check prices and reserve a place.